THE WALNUT MODEL
When we work in teams we have numerous aspects to consider to be able to collaborate in an effective and productive manner. A model that beautifully illustrates these different aspects is called the Content/Process Model, or also the Walnut Model.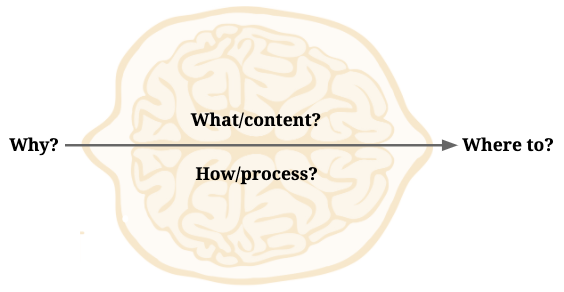 WHY: What is the key driving purpose of this project? Why are we doing it?
WHERE TO: What are the key desired outcomes for this project? What are the most important aims and deliverables?
WHAT/CONTENT: What is the content of this project? What will we create together?
HOW/PROCESS: How will we work together to fulfil our purpose and desired outcomes? What behaviours, practices, and approaches will support us to be effective?
This is the model Liene uses for any assessment of an assignment. This is also the model that inspired Liene for her choice of company name as it's so ubiquitous in it's application.
---
Liene designs experience-based learning sessions which she tailors to the particular needs of the individual/group and with high flexibility adapts these to the emerging needs. She works with herself as a tool and trust in her competence, experience and intuition. Liene listens and observes the things being communicated both verbally, non-verbally and physically.
Facilitation to Liene is accessing the potential of the individuals and the group to solve the issues at hand. Through learning design and facilitation Liene helps create safety for people to open up and share, to contribute and become leaders of their individual and groups' growth and development. The focus is on creating sustainability and ownership to lead the process forwards with own means. You could say that Liene has done her job well when she is no longer needed…!